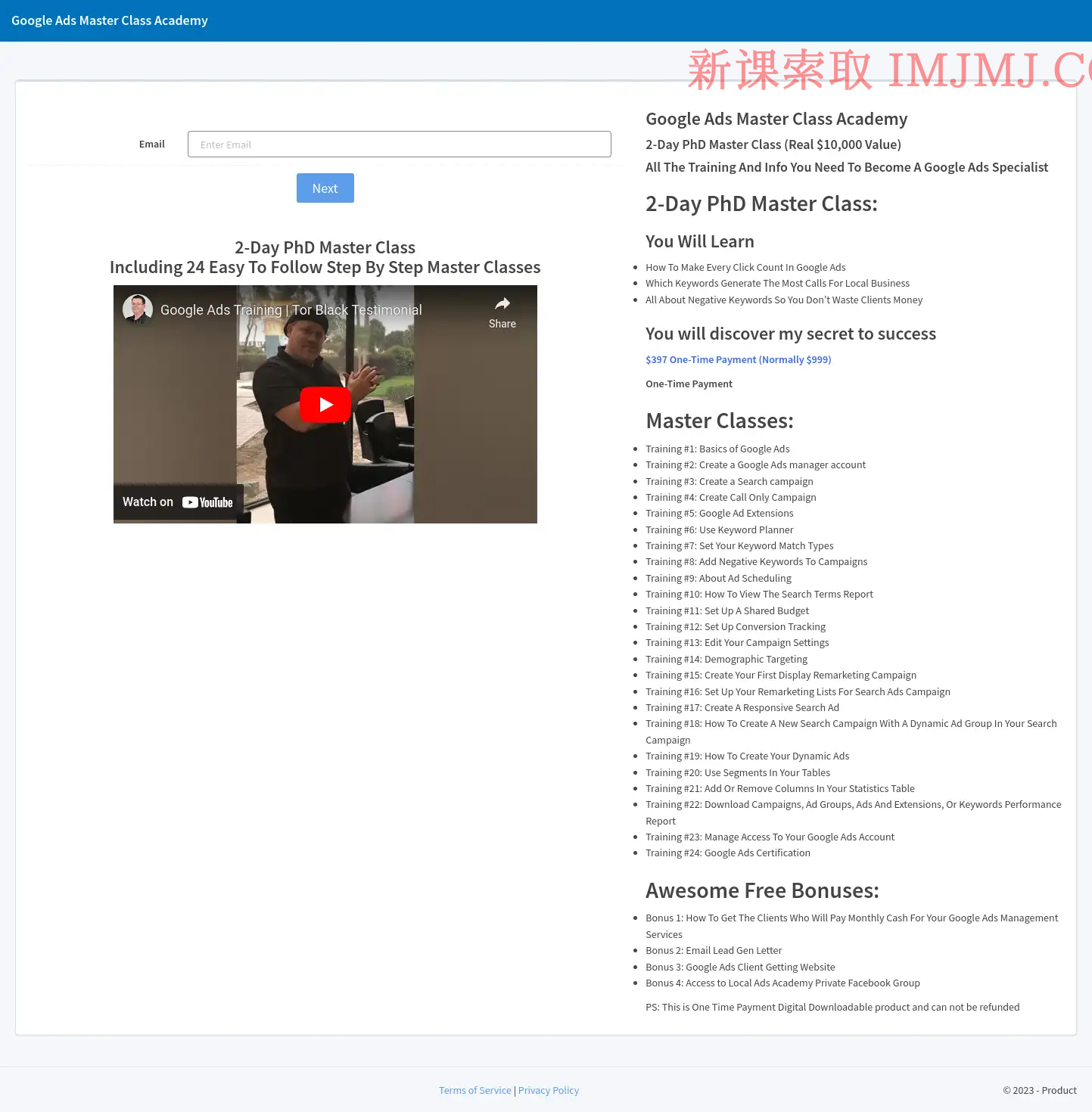 Google Ads Master Class Academy

您将学到:

如何在Google广告中让每一次点击都有所收获。

哪些关键词为本地企业带来的电话咨询最多。

如何使用负面关键词,以避免浪费客户的资金。

All the training and info you need to become a Google Ads Specialist.

You will learn:

How to make every click count in Google ads.
Which keywords generate the most calls for local business.
All about negative keywords so you don't waste clients money.


Google Ads Master Class Academy
    01-INTRODUCTION.mkv
    01-INTRODUCTION.pdf
    02-892028680d2e5921214af4de6c08f895.pdf
    02-Chapter 1- Basics of Google Ads.mp4.mkv
    02-LAC 1 - Basics of Google Ads.docx
    02-LAC Chapter 1 - Basics of Google Ads.pptx
    03-Chapter 2- Create a Google Ads Manager Account.mkv
    03-Create a Google Ads Manager Account.pdf
    03-LAC 2 - Create a Google Ads manager account.docx
    03-LAC 2 - Create a Google Ads manager account.pdf
    04-Chapter 3-Create a Search campaign1.pdf
    04-LAC 3 - Create a Search campaign.docx
    04.0-Chapter 3- Create a Search campaign.mkv
    04.01-798fdb2c4b83e9ffd938fa0cf160f923.pdf
    04.1-Chapter 3B- Ads and Ad Groups.mkv
    04.1-LAC 3 - Ads & Ad Groups.docx
    04.2-Chapter 3C- Create a Dynamic Search Ads.mkv
    04.2-d961e5a7e0a003f3a774076462a2b126.pdf
    04.2-LAC 3D - Budget & Bidding.docx
    04.3-a8edc99cba234c42239bc9b53e875567.pdf
    04.3-Chapter 3D-Budget & Bidding.mkv
    04.3-LAC Chapter 3C - Create a Dynamic Search Ads.docx
    05-Chapter 4- Create Call Only Campaign.mkv
    05-Chapter 4-Create Call Only Campaign.pdf
    05-LAC 4 - Create call campaigns.docx
    06-Chapter 5- Google Ad Extensions.mkv
    06-Chapter 5-Google Ad Extensions.pdf
    06-LAC 5 - Google Ads Extensions.docx
    07-Chapter 6- Use Keyword Planner.mkv
    07-LAC Chapter 6 - Use Keyword Planner.docx
    08-Chapter 7-Set Your Keyword Match Types.mkv
    08-Chapter 7-Set Your Keyword Match Types5.pdf
    08-LAC Chapter 7 - Set your keyword match types.docx
    09-Chapter 8- Add Negative Keywords To Campaigns.mkv
    09-LAC Chapter 8 - Add negative keywords to campaigns.docx
    10-Chapter 9- About Ad Scheduling.mkv
    10-LAC Chapter 9 - About ad scheduling.docx
    11-Chapter 10- How To View The Search Terms Report.mkv
    11-LAC Chapter 10 - How to view the search terms report.docx
    12-LAC Chapter 11 - Set up a shared budget.docx
    13-Chapter 12- Set Up Conversion Tracking.mp4
    13-LAC Chapter 12 - Set up conversion tracking.docx
    14-Chapter 13- Edit Your Campaign Settings9.mp4
    14-LAC Chapter 13 - Edit your campaign settings.docx
    15-Chapter 14- Audience.mp4
    15-Chapter 14-Audience.pdf
    15-LAC Chapter 14 - Audience.docx
    16-Chapter 15- Create Your First Display Remarketing Campaign.mp4
    16-Chapter 15-Create Your First Display Remarketing Campaign.pdf
    16-LAC Chapter 15 - Display remarketing campaign.docx
    17-Chapter 16-Set Up Your Remarketing Lists For Search Ads Campaign.mp4
    17-Chapter 16-Set Up Your Remarketing Lists For Search Ads Campaign.pdf
    17-LAC Chapter 16 - Set up remarketing for search ads campaign.docx
    18-Chapter 17- Create A Responsive Search Ad.mp4
    18-Chapter 17-Create A Responsive Search Ad.pdf
    18-LAC Chapter 17 - Create a responsive search ad.docx
    19-Chapter 18- Ads Generator - Template.mp4
    19-LAC - Ads Ideas Template.xlsx
    20-Chapter 19- Niche - Template.mp4
    20-LAC - Niche - Template.xlsx
    21-Chapter 20- Use Segments In Your Tables.mp4
    21-Chapter 20-Use Segments In Your Tables.pdf
    21-LAC Chapter 20 - Use segments in your tables.docx
    22-Chapter 21- Add Or Remove Columns In Your Statistics Table.mp4
    22-Chapter 21-Add Or Remove Columns In Your Statistics Table.pdf
    22-LAC Chapter 21 - Add or remove columns in your statistics table.docx
    23-Chapter 22- Download And Schedule Campaigns, Ad Groups, Ads And Extensions, Or Keywords Performance Report.mp4
    23-Chapter 22-Download And Schedule Campaigns, Ad Groups, Ads And Extensions, Or Keywords Performance Report.pdf
    23-LAC Chapter 22 - Download Campaigns, adgroups, ads and extension, or keywords performance report.docx
    24-AC Chapter 23 - Manage access to your Google Ads account.docx
    24-Chapter 23- Manage Access To Your Google Ads Account.mp4
    24-Chapter 23-Manage Access To Your Google Ads Account9.pdf
    25-Chapter 24-Quality Score.mp4
    25-LAC Chapter 24 - Quality Score.docx
    26-Chapter 25- Performance Planner.mp4
    26-Chapter 25-Performance Planner.pdf
    26-LAC Chapter 25 - Performance Planner.docx
    27-Chapter 26- General Key Points.mp4
    27-Chapter 26-General Key Points.pdf
    27-LAC Chapter 26 - General Key points.docx
    28-Chapter 27-All Key Points - Certification Preparation.mp4
    28-Chapter 27-All Key Points - Certification Preparation.pdf
    28-LAC Chapter 27 - All Key Points.docx
    29-Chapter 28- Google Ads Certification - Exam.mp4
    29-Chapter 28-Google Ads Certification - Exam1.pdf
    29-LAC Chapter 28 - Google Ads Certification Exam.docx
    30-Your First GMB Client This Week.mkv
    30-Your First GMB Client This Week.vtt
    31-Resources.pdf
    32-Bonus.pdf
    32-LAC - Client Getting Scripts.docx
    33.1-Client Getting Role Play 1.mkv
    33.2-Client Getting Role Play 2.mkv
    34-Voice Drop Message Script.pdf
    35-bonuses-month-1.pdf
    35-Google Ads Management Company Information.xlsx