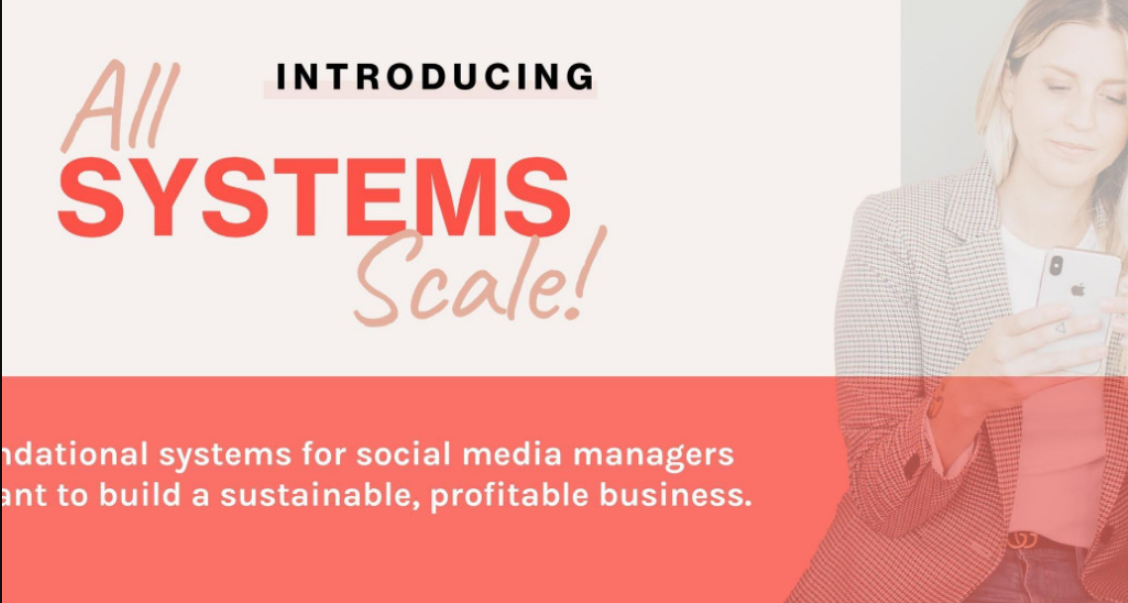 你的社交媒体业务想要升级到更高的水平吗?
那就来参加 All Systems Scale 培训吧!

这个培训平台一共有三个模块,超过30个视频课程,它们将逐步教你如何搭建业务的基础,以便你更高效地招揽客户和团队成员,轻松运营你的社交媒体服务业务。

更有电子邮件模板、预制工作流和可定制的机构模板等一应俱全,让你轻松插入到现有业务中。

快来加入 All Systems Scale 培训,让你的社交媒体事业高速扩张吧!

All Systems Scale training portal that takes you through the three Signature Systems you need to scale your social media business to the next level.
3 modules, with over 30 video lessons, that will walk you step-by-step through setting up the foundation of your business, so you can onboard clients & team members more efficiently and operate your social media services-based business with ease.
Email swipe copy, pre-made workflows, and customizable agency templates that you can immediately plug into your existing business.

│  └─All Systems Scale
│      ├─01-The SMCEO Presents-All Systems Scale!
│      │  ├─01-Getting Started
│      │  │      01-Welcome To The Program!【imjmj.com】.mkv
│      │  │      02-How To Navigate The Course Portal- Tips For The Best Experience【imjmj.com】.mkv
│      │  │      
│      │  ├─02-Signature System 1-Client Acquisition & On-boarding
│      │  │      01-The Social Media CEO Client Accelerator Ebook Final.pdf
│      │  │      01-Welcome To Module 1- Client Acquisition & On-Boarding 【imjmj.com】.mkv
│      │  │      02-Your Ideal Client 【imjmj.com】.mkv
│      │  │      02-Your Ideal Client.pdf
│      │  │      03- Creating Irresistible Offers .mkv
│      │  │      04-Attracting & Qualifying Leads.mkv
│      │  │      04-Attracting & Qualifying Leads.pdf
│      │  │      05- Setting Up Canned Responses .mkv
│      │  │      05- Setting Up Canned Responses.pdf
│      │  │      06-The Discovery Call .mkv
│      │  │      06-The Discovery Call.pdf
│      │  │      07-The Proposal.mkv
│      │  │      08- New Client Welcome .mkv
│      │  │      08- New Client Welcome.pdf
│      │  │      09-New Client Survey .mkv
│      │  │      09-New Client Survey.pdf
│      │  │      10- Client Setup.mkv
│      │  │      10- Client Setup.pdf
│      │  │      11-Client Trello Board Setup .mkv
│      │  │      12-30 Day Follow Up.mkv
│      │  │      12-30 Day Follow Up.pdf
│      │  │      13- The Client Journey Continues.mkv
│      │  │      13-All Systems Scale Raise Your Rates Price Increase Email Template The SMCEO.pdf
│      │  │      
│      │  ├─03-Signature System 2 Team On-boarding
│      │  │      01- Welcome To Module 2- Team On-Boarding 【imjmj.com】.mkv
│      │  │      01-The Right Time To Outsource【imjmj.com】.mkv
│      │  │      03-Prospect.mkv
│      │  │      03-Prospect.pdf
│      │  │      03-SMCEO 5 Ways To Find Your Dream Team.pdf
│      │  │      03-SMCEO Job Description Examples .pdf
│      │  │      04- Interviews & Coffee Chats.mkv
│      │  │      04- Interviews & Coffee Chats.pdf
│      │  │      04-SMCEO Interview Script Reference Check.pdf
│      │  │      05-SMCEO NEW TEAM MEMBER WELCOME EMAIL.pdf
│      │  │      05-Team Member On-Boarding.mkv
│      │  │      05-Team Member On-Boarding.pdf
│      │  │      06-Training & Kickoff .mkv
│      │  │      06-Training & Kickoff.pdf
│      │  │      07- Follow Up.mkv
│      │  │      07-SMCEO Review Template.pdf
│      │  │      08- Your Company Culture .mkv
│      │  │      09-Team Member 101.mkv
│      │  │      
│      │  ├─04- Signature System 3-Client Management
│      │  │      01-Welcome To Module 3- Client Management 【imjmj.com】.mkv
│      │  │      02-Client Management Trello System Overview.pdf
│      │  │      02-Client Management Trello System Overview【imjmj.com】.mkv
│      │  │      03- 5 Steps To Smart Systems .mkv
│      │  │      03-ALL SYSTEMS SCALE 5 Steps To Smart Systems.pdf
│      │  │      04-Setting Up Your Task Overview.mkv
│      │  │      04-Setting Up Your Task Overview.Mp4.pdf
│      │  │      05-Client On-Boarding Hack.mkv
│      │  │      06- Time-Management & Your Workweek .mkv
│      │  │      06- Time-Management & Your Workweek.pdf
│      │  │      07-Conclusion- AKA The End.mkv
│      │  │      
│      │  ├─05- Resources-Tech Trainings
│      │  │      01-Trello Quick Start Guide 【imjmj.com】.mkv
│      │  │      01-Trello Quick Start Guide.pdf
│      │  │      02-How To Create Canned Email Responses 【imjmj.com】.mkv
│      │  │      03-How To Use Your Canva Templates.mkv
│      │  │      04- How To Set Up The Card Repeater Power Up In Trello .mkv
│      │  │      05-Later Lecture- How To Schedule Multiple Clients Each Week On Instagram With A Team .mkv
│      │  │      05-Later Lecture-How To Schedule Multiple Clients Each Week On Instagram With A Team.pdf
│      │  │      
│      │  └─06- Bonus Content
│      │          01-How To Position Your Social Media Business In A Saturated Market 【imjmj.com】.mkv
│      │          02- Creating An Internship Program For Your Social Media Business 【imjmj.com】.mkv
│      │          02-Creating An Internship Program For Your Social Media Business.pdf
│      │          03-ALL SYSTEMS SCALE Influencer Program Email Swipe Files.pdf
│      │          03-Example Of Brand PDF For Influencers.pdf
│      │          03-How To Create An In-Kind Influencer Marketing Program For Your Clients.mkv
│      │          03-How To Create An In-Kind Influencer Marketing Program For Your Clients.pdf
│      │          04-The SMCEO Social Media Services Pricing Guide.pdf
│      │          
│      └─02- How to Become a Fully Booked Out Social Media Manager
│              01- How To Become A Fully Booked Out Social Media Manager【imjmj.com】.mkv