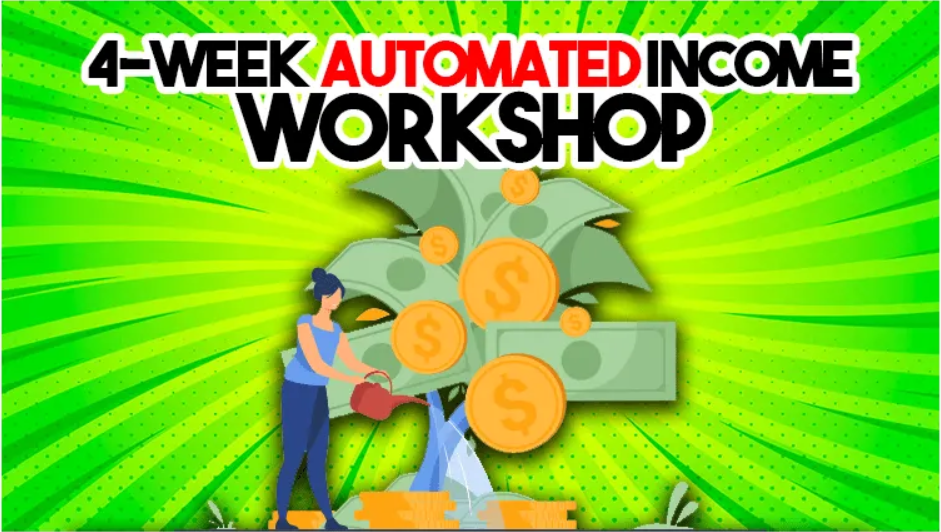 想知道如何设置第一个广告活动,以减少竞争?我们可以轻松地为您提供解决方案。
想知道如何在不花费任何广告费用的情况下获取潜在客户的最佳策略是什么?我们会告诉您。
如果市场已经非常饱和,我们应该如何竞争呢?让我们来告诉您。
如果您是一名完全的新手,我们应该从哪里开始,并如何使用我们的DFY模板呢?我们会为您一一解答。
如何轻松地完成第一笔交易?让我们告诉您诀窍。
如何使用表单提交来获取更多电话呼叫?我们也会为您讲解。

By following the step-by-step instructions, we can help you create a passive business capable of making thousands a month.

How to easily setup your first campaign so that there is little competition.
What is the best strategy to get leads without paying for traffic.
How to compete if the marketplace is crowded.
​Where to start if you're a complete beginner how to use my DFY template.
How to land your first deal effortlessly.
Using form submissions as a way to get more phone calls.

│  └─4 Week Automated Income Workshop
│      │  00-WATCH THIS FIRST! [imjmj.com].mkv
│      │  
│      ├─01-Configuring DialHawk
│      │      01-Welcome To DialHawk (General Settings) [imjmj.com].mkv
│      │      02-Note.pdf
│      │      02a-Mailing Integration - MailJet Tutorial (Recommended).mp4
│      │      02b-Mailing Integration - Mailgun Tutorial [imjmj.com].mkv
│      │      03-Payment Integration [imjmj.com].mkv
│      │      04-Twilio Integration [imjmj.com].mkv
│      │      05-Creating A New Campaign [imjmj.com].mkv
│      │      06-Buy or Import Phone Numbers [imjmj.com].mkv
│      │      07-Campaign Number Swapping [imjmj.com].mkv
│      │      08-Quick Call Forms [imjmj.com].mkv
│      │      09-Reporting Walk Through [imjmj.com].mkv
│      │      10-How To Use Invoicing [imjmj.com].mkv
│      │      11-Switching From Another Call Tracking Services (keep your numbers) [imjmj.com].mkv
│      │      
│      ├─02-Pay Per Call Profits (Bonus Course On Ranking Websites)
│      │      01-Introduction and Case Study [imjmj.com].mkv
│      │      02-Picking A Low Competition Niche & Area [imjmj.com].mkv
│      │      03-Which SEO Strategy Is Best For Pay Per Call Sites [imjmj.com].mkv
│      │      04-A Quick Lesson About Google Maps [imjmj.com].mkv
│      │      05-How To Setup Google Search Console [imjmj.com].mkv
│      │      06-Picking Out Easy Keywords [imjmj.com].mkv
│      │      07-Creating A Site (BONUS WordPress Theme) [imjmj.com].mkv
│      │      07-Resource.pdf
│      │      07-WordPress Theme Files.zip
│      │      08-Website Optimization Part 1 [imjmj.com].mkv
│      │      09-Website Optimization Part 2 [imjmj.com].mkv
│      │      10-Website Optimization Part 3 [imjmj.com].mkv
│      │      11-Creating A Social Media Presence [imjmj.com].mkv
│      │      12-How To Use Local Directories [imjmj.com].mkv
│      │      13-Getting Started With Backlinking [imjmj.com].mkv
│      │      14-How To Land Your First Pay Per Call or Rank & Rent Client EASILY [imjmj.com].mkv
│      │      
│      ├─03-Case Study
│      │      01-Case Study Introduction [imjmj.com].mkv
│      │      02-Niche Selection & Competitive Analysis [imjmj.com].mkv
│      │      03-Keyword Research Planning Worksheet.xlsx
│      │      03-Picking Out Keywords [imjmj.com].mkv
│      │      04-Building Out The Site.mp4
│      │      04-Resource.pdf
│      │      05-On Page SEO.mp4
│      │      06-Putting Together A Content Plan [imjmj.com].mkv
│      │      07-Finding Links & Assessing Rankings [imjmj.com].mkv
│      │      08-30 Day Update $700 a month! [imjmj.com].mkv
│      │      
│      ├─04-Quick Call Form Profits Training (Bonus Course On First To Respond Service)
│      │      01-Method Overview [imjmj.com].mkv
│      │      02-The Best Quick Call Form Niches [imjmj.com].mkv
│      │      03-Email Templates.docx
│      │      03-How To Get A Quick Call Form Client [imjmj.com].mkv
│      │      04-Proposal Template.docx
│      │      04-Quick Call Form Proposal Template & What To Do If Client Doesn't Pay [imjmj.com].mkv
│      │      05-Fulfill The Service In Less Than 5 Minutes! [imjmj.com].mkv
│      │      
│      ├─05-Where To Find Clients Willing To Pay For Calls
│      │      01-What Kind of Client Should You Go After [imjmj.com].mkv
│      │      02-Site 1 - Thumbtack [imjmj.com].mkv
│      │      03-Site 2 - Home Advisor [imjmj.com].mkv
│      │      04-Site 3 - Groupon [imjmj.com].mkv
│      │      05-Site 4 - Living Social [imjmj.com].mkv
│      │      06-Email Template [imjmj.com].mkv
│      │      06-Email Template.pdf
│      │      07-Email Tracking Trick [imjmj.com].mkv
│      │      08-Loom Prospecting [imjmj.com].mkv
│      │      09-Pay-Per-Call Proposal.docx
│      │      09-Quick Call Forms Proposal.docx
│      │      
│      └─06-Training
│              01-Getting Started [imjmj.com].mkv
│              02-Note.pdf
│              02a-Mail Driver - MailJet [imjmj.com].mkv
│              02b-MailGun [imjmj.com].mkv
│              03-Accepting Payments [imjmj.com].mkv
│              04-Connecting Twilio [imjmj.com].mkv
│              04-Resource.pdf
│              05-Creating A New Campaign [imjmj.com].mkv
│              06-Adding A Phone Number [imjmj.com].mkv
│              07-Dynamic Number Swapping [imjmj.com].mkv
│              08-Quick Call Forms [imjmj.com].mkv
│              09-Reporting [imjmj.com].mkv
│              09-Reporting.mp4
│              10-Invoicing [imjmj.com].mkv
│              11-Switching From Another Provider [imjmj.com].mkv
│              12-Getting Help [imjmj.com].mkv